A spectacular overhead kick, an iconic solo run and an exquisite volley – here are our favourite goals of the noughties.
---
Ronaldinho v Villarreal, November 25, 2006, Camp Nou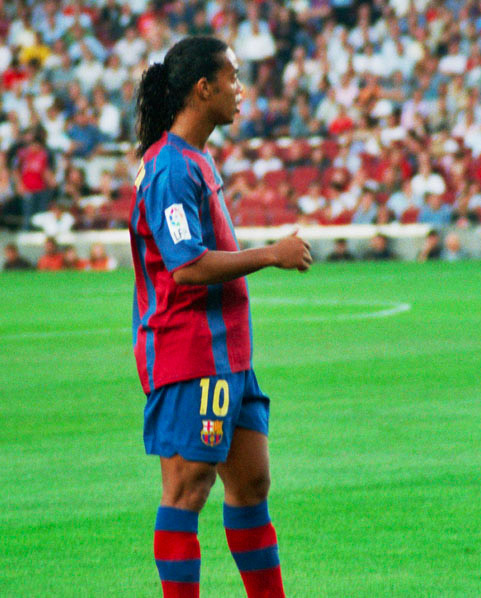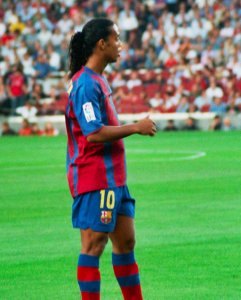 No-look passes, outrageous toe pokes, leg-breaking elasticos, Ronaldinho made it his business to entertain on the pitch.
But even after the party-loving Brazilian had established himself as a master sorcerer there were still moments where he could leave you mouthing, "What the…".
One of these moments came in late 2006 at the Camp Nou. Barcelona were cruising to a comfortable win over Villarreal when Ronaldinho decided it was time to get the crowd on their feet.
Spain's legendary playmaker Xavi clipped a cross towards the advancing Ronaldinho who had slipped in behind the slowly departing Villarreal defence.
The two-time FIFA World Player of the Year had got slightly caught under the ball, forcing him to chest it up over his head.
Ronaldinho quickly readjusted his body, spinning 180 degrees, so he could execute an acrobatic bicycle kick that flew over the outstretched arm of goalkeeper Mariano Barbosa and into the back of the net.
The unmistakable roar of the Catalan crowd swept around the famous bowl as the buck-toothed magician got to his feet, removed his shirt and swung it around this head. Supporters held their heads in their hands, looked around at one another, laughed and waved their white hankies in an outpouring of admiration.
After the game Ronaldinho said scoring that goal fulfilled a childhood dream. "I didn't really think too much about it because it just happened on the spur of the moment," he said.
"When I controlled the ball it stood up just right and everything worked out perfectly.
"Ever since I was a young boy I've dreamed of scoring a goal like that. I'm never going to forget this goal."
---
Lionel Messi v Getafe, April 18, 2007, Camp Nou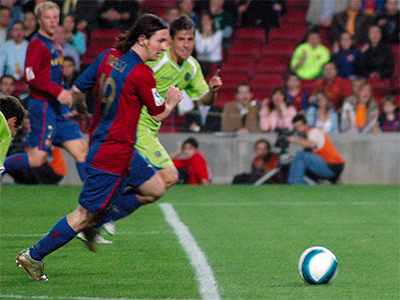 The goal that Barcelona fans voted as the greatest in the club's history. Lionel Messi's slaloming run against Getafe in the semi-finals of the Copa del Rey earned more votes than the other 63 goals included in the poll.
Messi's individual effort received 45 per cent of the 500,000 votes cast between December 2018 and March 2019. So, what's all the fuss about? Well, you could just watch Diego Maradona's moment of magic against England in 1986, because touch by touch, Leo's is basically a carbon copy of the greatest goal in World Cup history.
Messi, like Maradona, collected the ball on the right, around the halfway line, but was closer to the touchline than the original dribble king.
From here, he charted virtually the same course to goal as Maradona did at Mexico City's Aztec Stadium.
First, Messi skipped way from Javier Paredes and Ignacio Nacho with some astonishing footwork, including a nutmeg.
Both victims desperately tried to take revenge, but they couldn't catch the five-time Ballon d'Or winner who cut inside and shifted the ball from left to right with two swift touches that took him between Alexis and David Belenguer.
In almost 10 seconds of full throttle play, Messi found himself one-on-one with Getafe goalkeeper Luis Garcia.
He opened up his body as if he was about to strike the ball with his left foot, which enabled him to sit Garcia down so he could cruise around his flailing body and lift the ball over Pablo Redondo, who had flung himself towards the goal line in a desperate bid to block the shot. He failed and another diminutive Argentine had scored a goal that would go down in history.
---
Zinedine Zidane v Bayer Leverkusen, May 15, 2002, Hampden Park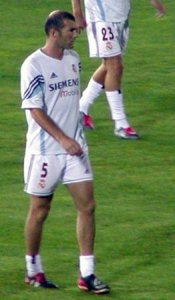 Zinedine Zidane's volley in the 2002 Champions League final encapsulated his extraordinary powers in one career-defining moment.
The Frenchman was a month shy of 30 and at the height of his powers, playing in a Real Madrid team that included Roberto Carlos, Luis Figo and Raul.
With Zizou conducting the orchestra the Spanish giants were favourites to claim their ninth European Cup, but found themselves drawing 1-1 with Bayer Leverkusen at Hampden Park.
The Germans looked to have reached the interval on level terms until Santiago Solari sent Carlos charging down the left wing.
Under pressure from his marker, the Brazilian could only hook an aimless cross towards the edge of the 18-yard-box.
The ball dropped out of the sky from such a height that most players would have struggled to bring it under control, let alone do what Zidane did.
Carefully tracking the ball's trajectory, he composed himself for the decisive moment and when it came, boy did he deliver.
Swinging his left foot like a martial artist kicking an apple off the top of a nervous participant's head, Zidane connected with a first-time volley that raced through the Glaswegian air, past the helpless Hans-Jorg Butt and into the back of the net like a perfectly thrown spear.
Power, precision, technique, skill, elegance, grace, beauty – it was a volley that embodied all these superlatives and more.
"I feel that volley was a beautiful and unique goal," said Zidane. "I don't plan those goals – you just have to be ready when the opportunity appears. I hit it —precisely, quickly and just right. I remember thinking how lucky I was to catch the ball at the right angle and height."
And we're lucky enough to be able to watch it over and over again on YouTube.
---
If you enjoyed this post have a read of our Our Favourite Goals of the 1980s, Our Favourite Players of 2010-2019 or Our Favourite Players of the 2000s.
---
Image Copyright: Ronaldinho ©Darz Mol, Lionel Messi v Getafe ©Darz Mol and Zinedine Zidane ©hywell.
---
Looking to find out more about Coerver Coaching?